Political Consulting - Knwoledge and Power: Seminar and lectures by guests of the field (June 1 - 3)
Guests: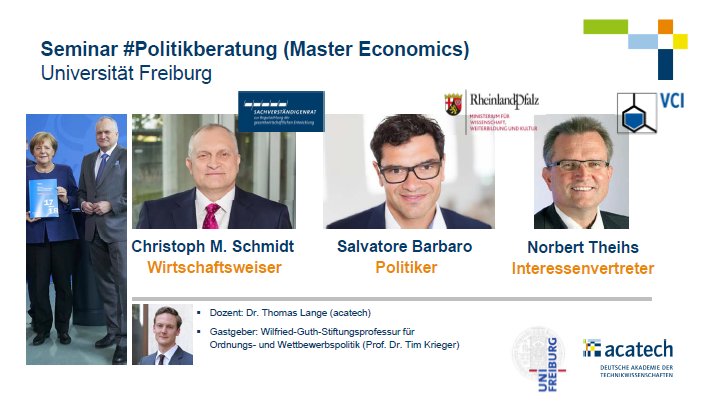 Die heutige Politik steht vor zunehmend größeren Herausforderungen. Durch die Globalisierung und Technisierung der Wirtschaft steigt die Komplexität politischer Entscheidungen und ihrer Wirkungen, zudem erhöhen sich die Anforderungen an ein effektives Management ökonomischer Risiken. Die Eurokrise, die Energiewende und die Digitalisierung der Wirtschaft sind nur drei aktuelle Beispiele, die aufzeigen, dass die (Wirtschafts-)Politik mehr denn je auf wissenschaftlichen Sachverstand zur fundierten Entscheidungsvorbereitung angewiesen ist. Die moderne Politikberatung wird dabei zunehmend als rückgekoppelter Prozess organisiert, der die unterschiedlichen Interessenlagen, Sichtweisen und Erfahrungshintergründe in Politik, Wissenschaft und medialer Öffentlichkeit austarieren soll.
Find more information about the event
here
.